X-RAY ROBOTIC SYSTEM FOR CANCER TREATMENTS
Convergent (CRnR) Ltd. is a medical start-up company developing a new x-ray focusing technology called MercyBeam™. Convergent Company is a breakthrough in cancer care.
The product has received the prestigious IDA Design award for Product Design in 2022.
The product has received the prestigious EPDA Design award for Product Design in 2022.
The product has received the prestigious Good Design  award for Product Design in 2022.
The product has received the prestigious Solidworks award for Product Design in 2022.
The Challenge
The world needs accurate cancer treatment that can reduce damage to healthy tissue, thus spare many lives.
One of the strong advantages of the innovative technology developed by Convergent is the increase of the patient's age range – from toddlers to elderly, an advantage that should also be supported on the Inclusive Design process.
important challenges are the patient's comfort during treatment as well as reduced cost to both patient and care provider.
Our vision was to provide the patients, both young and old, an ultimate calm and confident experience during the treatment.
DEVELOPMENT PROCESS
Robots are becoming increasingly prevalent in almost every industry, from healthcare and manufacturing to defense and education.
In designing the robot for Convergent, it was important for us to empower the positive treatment experience for the patient, to give him a feeling that he is in the best hands and receives the best care. The robot is the main character that the patient encounters and it has to mediate these feelings.
At the same time, we considered the importance of functional operation, the work of the therapist and the technician. The robot figurative concept succeeded in supporting all users!
MercyBeam's solution is a cutting-edge novel approach to Radiotherapy and Radiosurgery treatment.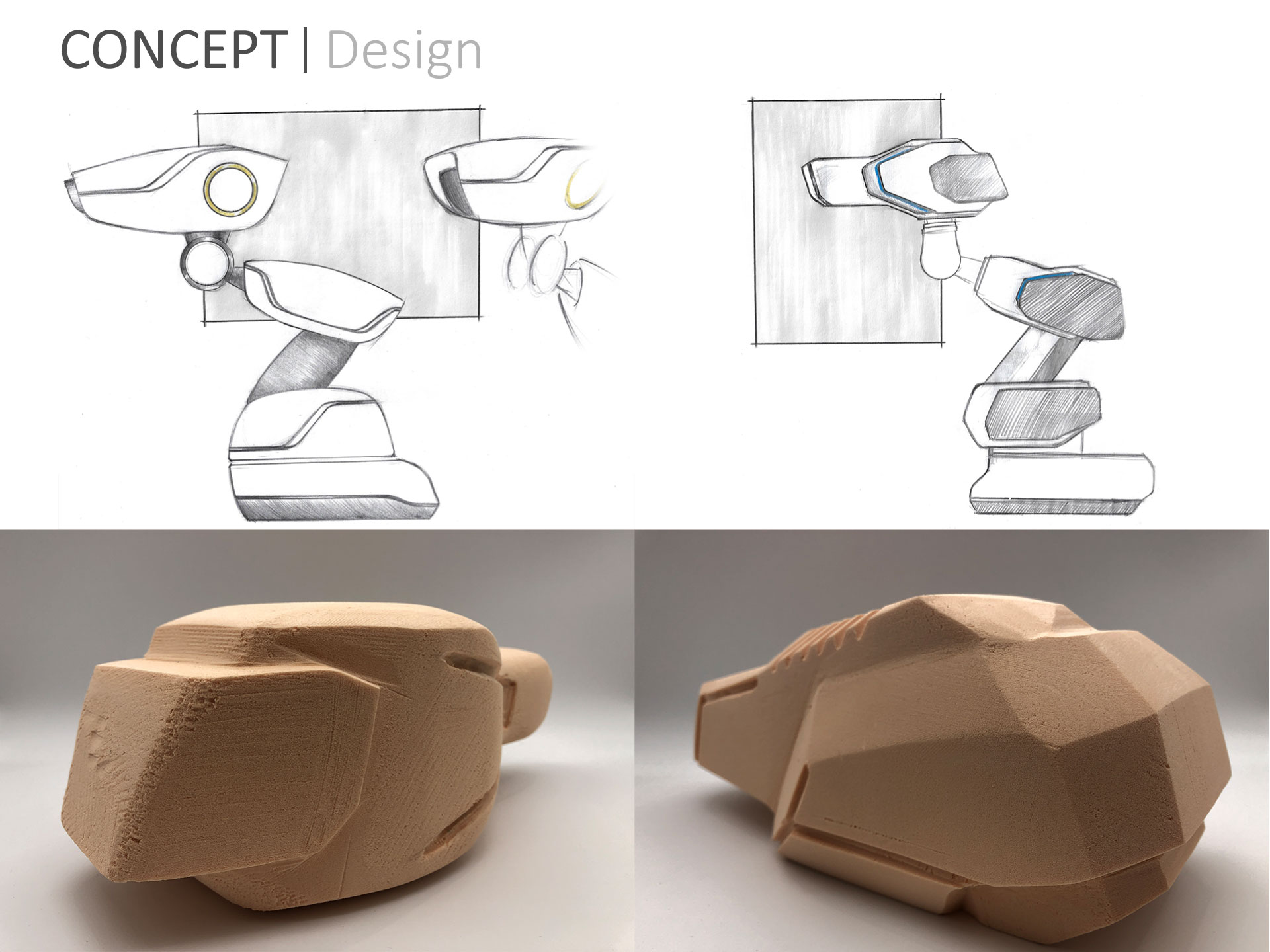 DESIGN PROCESS
The design process included an in-depth reference to the last detail of manufacturing, operation, and patient-user experience. The robotic arm served as a guideline for the final mantle, the treatment process and the atmosphere that will be in the therapy room.
We aspired to design a figure at the top of which is the source of adjustable radiation therapy to the treatment area. Despite the size required for the robot's head, we were able to create a captivating intuitive look.
ENGINEERING
Through precise and coordinated engineering work among all the professional bodies, we have been able to reach the revolutionary result we aspire to.
THE FINAL PRODUCT
ANGLECURE was meticulously designed and crafted with more than 50 state-of-the-art, high-grade Polymer parts, combining a classic industrial design with the most cutting-edge robotic technology.